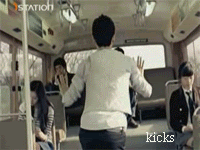 Was kinda surprised this morning to find out Big Bang is celebrating it's 10th anniversary. Like...what? WHAT? I mean considering my fannish timeline with them I should have seen this coming but it admittedly never crossed my mind. Because I don't pay attention anymore etcetc. But the news has hit me like a ton of bricks and I've been lost in fuzzy, fuzzy thought all morning (making today's Japanese lesson kind of rough).
I wasn't there from the beginning, not falling into accidental love (try to like something for "ironic" reasons and you will become what you claim to hate, LESSON LEARNED) with them until 2008, and admittedly I my interest started to falter as early as 2012. But the good years were really good, and my love of Big Bang (and, to a certain extent KPOP as a whole) created a whole lot of positive during what was a relatively rocky phase of life for me.
If I could ever get off my bum and organize my thoughts there would be a nice essay in there. About what Big Bang was and did for me and how you should never let anyone make you feel bad for liking what you like because your experience is personal and meaningful and no one can ever take that away from you.
But until then, I dunno, I guess I'm just gonna watch some early-years Big Bang videos, and perhaps this weekend I will sit down with a beer and my 2009 Big Show DVDs and shed some happy(?) tears for a time in my life that is no more.